When used to assemble threaded fasteners, Loctite® threadlockers are vastly superior to mechanical locking devices. Applied drop-wise to the threads of a fastener, the anaerobic liquid cures to a hard thermoset plastic that locks the threads together, preventing unwanted movement or loosening, leaks, and corrosion. To further enhance their performance, unique anaerobic formulations have been developed for applications with high temperatures, oil contamination, and less reactive surfaces. Loctite® threadlockers have historically been formulated as liquids due to their reactivity, and to ensure they remain stable and ready to use. Recent breakthroughs have led to the development of stable, semisolid stick formulations.
This has opened the door to applications where the liquids were considered too messy or inconvenient. These new semisolid formulations allow direct contact of the anaerobic product to the part. This ensures not only that the product is placed exactly where it is needed, but also that it stays there as the threaded part is positioned and assembled.*
*text form Loctite Corp. 2008 Source Book.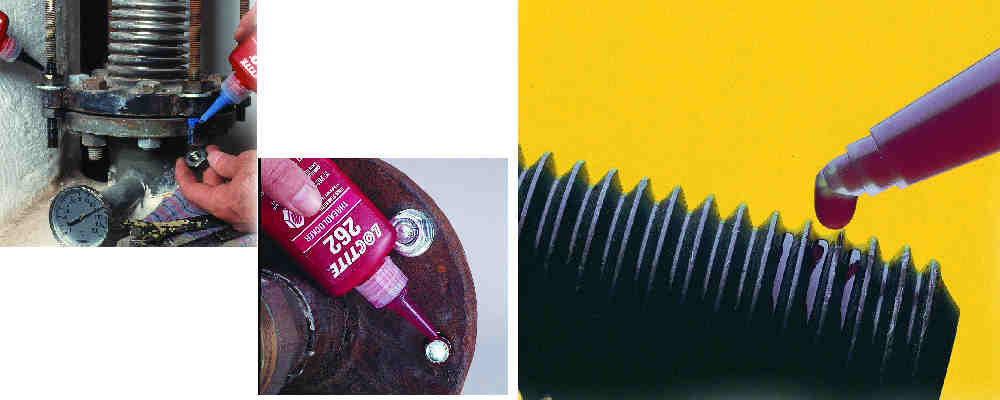 Wilcox-Slidders, Inc. 18 Passaic Ave. Fairfield NJ 07004 • 973-575-8600 • Fax: 973-575-7329
Contact E-Mail: Sales@wilcox-slidders.com
Threadlockers:
Threaded fasteners continually receive various types of differential stress. Stresses, such as vibration and shock, thermal expansion and contraction, and micro-movement of the fastened parts, can all reduce clamping force and ultimately cause machine failure. Many mechanical devices, such as spring washers, wire retainers and locking bolts, were developed to prevent uncontrolled loosening of fasteners. These locking methods add substantial cost to the fastener assembly, yet cannot reliably prevent loosening due to their uneven side or sliding motion. They also do not seal or
prevent corrosion within the fastener assembly and must be sized appropriately for the specific fastener. Threadlockers are available in low strength formulations for easy removal, medium strength grades that are removable using common hand tools, and high strength grades that offer strong holding abilities. However, no threadlocker is completely permanent; standard hand tools remove even the highest - strength threadlockers following direct exposure to heat (450°F to 500°F) for about five minutes. Contrary to common belief, any bolt previously locked with threadlocking adhesive is reusable simply by removing the old adhesive, applying new threadlocking material and reassembling.*
*text form Loctite Corp. 2008 Source Book.